Who leads the church?
We don't have a priest, a vicar, or even a pastor in the conventional sense. Instead the church is led by Paul Anderson-Walsh and a team of elders.
The Leader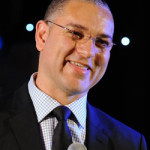 An L&D practitioner since 1997, Paul Anderson-Walsh has a vast amount of experience in facilitating high-level strategic change workshops. He has worked with a wide variety of organisations including: Cambridge University Press, Oxford Summer School, The Disney Corporation, The Design Council, Sir Robert McAlpine, Defra, Bank of New York Mellon, NWLH NHS Trust and Rabobank. He is highly regarded for his ability to help management teams work together.
Paul is also the founder and director of The Grace Project – a charity dedicated to working with people to help them discover their identity and resolve issues of self-worth and self-esteem. Paul has written three books on the subject.
He is a well-respected commentator who is called upon by the BBC & he is a regular contributor at Premier Radio. Paul is the former CEO of The Stephen Lawrence Charitable Trust.
The Team